Later this year I'll beginning working on a new project. This is all thanks to a grant from Arts Council England. The grant is called Developing Your Creative Practice and the purpose is to help artists try something different and take a risk with a new direction. Only 1 in 5 applications are successful so I feel very lucky to get this award. I have applied in the past and been declined, so I know how hard that is.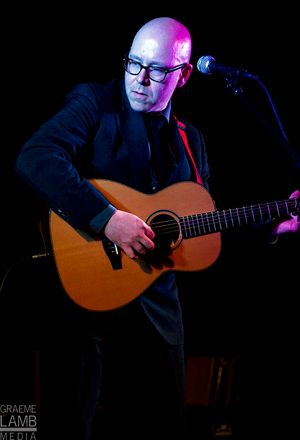 The new project will be all about me learning some stage craft and theatre skills. One of my ambitions is to create a show that can tour into arts centres and small theatre spaces - the so-called 'black box' type venues. Over the years I have tried several one-man shows that mix my songwriting with spoken narrative and slides/images. 
2009 Quiet Loner Under Surveillance (CCTV Cabaret/Shambala Festival) 
2010 Quiet Loner's Journey to the Netherworld (Cabaret type residency, Gladstone London) 
2013 How to make a protest album (in 5 easy steps) (People's History Museum) 
2014 Beneath these folds (Joint show with Tony Walsh - Longfella poet. People's History Museum) 
2015 '2084' Songs of Surveillance (Joint show with Steve Roberts. Buxton fringe Festival) 
2017 The Battle for the Ballot (People's History Museum and national touring) 
These have been various attempts to bring a different kind of delivery to my songs than simply a man with guitar stood on stage. I've seen the impact this can have on audiences, particularly using visuals and spoken word alongside songs. I've even worked with actors and a script on one show. So I have an inkling of how this might suit my music. 
I've been influenced in this style by a couple of artists. Firstly the comedian Dave Gorman who shifted from stand-up into a more 'lecture' type format using powerpoint to great effect. Secondly is the artist Bryony Kimmings She does shows that blend drama, comedy, dance, movement, songs and music. They call it performance art I think, but to me watching her is always just pure entertainment. Almost like a modern form of variety. She always tackles really tough subjects and she almost always involves the public in telling the story. It's those things that resonated with me and the work I've done writing songs in community settings like homeless centres, prisons, schools and dementia care day centres. 
For this new project I am absolutely made up to be working with Studio 3 Arts in Barking, East London. They are a wonderful organisation deeply rooted in their working class community and stuffed with theatrical talent. They even have their own 'black box type space and I've really enjoyed working with them before. I'm hoping they will give me some insights into things like props, lighting, stage craft, script development, storylines. Who knows what else? I have no expectation of what the outcome might be, that's one of the privileges of this type of funding. We can see where the creative flow takes us. I'm looking forward to getting started.