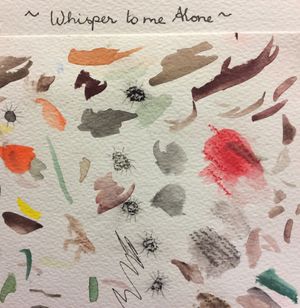 WHISPER TO ME ALONE
Last year I worked on a project with arts organisation arthur + martha. We worked in partnership with two Manchester homelessness support charities -  The Booth Centre and Back on Track - and created artwork with people affected by homelessness during the Covid 19 crisis. My part of the project was to create a song cycle. Poet and project director Phil Davenport was helping people write poems and I used those poems as the basis for developing song lyrics. Despite the limitations under lockdown this has been one of the projects I am most proud of.
The songwriting process 

"my guiding principle is to add as little of my own writing as possible"
I've worked on similar songwriting projects but usually face to face with people. As I began songwriting, it was odd to just have words in front of me, and not faces. My first task is to find rhyme or rhythm within the words. Some pieces leap out at you immediately and others need some rewriting. My job is to make the words fit a melodic structure. My guiding principle is to add as little of my own writing as possible and preserve as much of the original as I can. 
Taking my initial ideas, I worked over the phone with the writers, gathering their input and recording their voices. You will hear some of those voices in the finished recordings. Some are spoken, some singing and some doing impressions and characters. I have come to know these voices so well and yet we've never met face to face.
Performing and recording the songs 

'electronic and distorted oddness adds to the sense of unease we all felt in lockdown'
A key decision early on was to drop the guitar (my usual instrument of choice) and move to the piano. This was Phil's idea, he felt my guitar demos were a bit too strident, maybe too polished or comfortable in my playing. He suggested I push myself out of my comfort zone and record on the piano - an instrument I can't really play properly. The limitations this put on me, were quite freeing. I think it lends the recordings a simplicity and a vulnerability. Phil came up with a lot of the electronics and distorted oddness you can hear. These elements add to the sense of unease and isolation we all felt in lockdown. We were very lucky to get some talented volunteers - Christine and Gary - who added their singing voices, harmonies and instruments via their phones.

My next job was to try and make sense of this collective outpouring of ideas without losing the essence of the original songs. The recordings were done at home, directly into phones, and down phone-lines. These are not professional quality of a  recording studio. Instead the "phone line" audio captures the sense of isolation we were all feeling as we tried to find connection over the phone. There are other sounds here too, electronic sounds of dial tones and beeps merged with the sounds of bird song, from that remarkable period in early lockdown when the traffic stopped and the birds returned to the city. 
An army of birds are coming 

'in times of trouble we all find our own ways to cope'
For a project born in an urban cityscape, nature and birds are ever present in this material. In 'A Whole Different Time' (video above) we hear of the arrival of seagulls into Manchester ("it's like being at the seaside") and the mysterious disappearance of the pigeons. Elsewhere in 'Airborne Particles' we take a journey around a garden, a haven to this person who takes comfort in naming the birds and creatures he finds there. 
The whole surreal and unreal feel of lockdown is captured here too. We begin with a mythic reframing in the track 'Ragnarök' 'bitter memories of times foreign and old' and the new reality of 'Tattoos Like These'; "Everyone's masked up....I can't get nothing sorted". The reality of lives affected by homelessness and mental health challenges comes through - there are songs directly about homelessness (Same Old Sun) and addiction (Watchman for the Daybreak). In times of trouble we all find our own ways to cope. Some of our writers found comfort in childhood. In the song 'Unicorns' we are reminded of childhood and the safety we all crave. In 'Barlow Moor road' we are taken back to the past, to times of family gatherings and community.   
Connection 
As I struggled with my own mental health during lockdown I was able to find a strong personal connection to these songs. This song cycle give us glimpses of other lives but there is universal truth here, as we all try to adapt and shift to this new reality.  Even though these are not the stories of my life, there is much here we can all find connection with.

You can stream the song cycle at Bandcamp or on Soundcloud