We Shall Overcome is a movement of musicians and community organisers who are angry about the human costs of austerity policies but who want to do something practical to help those affected. I was one of the people who helped get it up and running in 2015.  The whole thing was the idea of my friend Stephen Goodall. Sadly in March Ste died. The lockdown had just begun and it was heartbreaking not be able to attend his funeral.
Not long after lockdown began my friend Joe Solo came up with the idea of a virtual festival through Facebook. Our friend Pauline Town was in imminent danger of having to cease her work supporting the homeless.She needed a fast injection of cash. Not only would this festival help Pauline it would allow us to pay a proper tribute to our friend Ste.  I offered to help Joe organise it and soon the We Shall Overcome Isolation Festival took over our lives.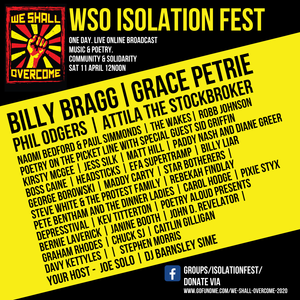 • 36 artists took parts 
• 26,000 people joined the festival site 
• Each performance was viewed between 1000 and 18,000 times. 
• We raised £27,000 on the Go Fund Me website 
• We raised an additional £2,000 profits on sales of festival T-Shirts 
There was real connection, real emotion, real hope, real sustenance, which is what good art and culture gives us. It wasn't a make do and mend affair. It was its own thing. Different to a "real" festival, not worse not better but different. But it was real and it mattered and it made a difference.  It was an incredible act of solidarity for all the artists to give their time to play at the festival.  
The money has gone to secure the long term viability of the work of Pauline Town in Ashton. At the moment her incredible work is feeding 80 people a day in lockdown. She's housed over 400. Tameside recently topped a UK wide government survey of ending rough sleeping. All that was going to stop, because the pub had to close during lockdown.  But instead, people from across the world came and gave help to one project in Tameside   
We were only able to reach these kinds of numbers because of the incredible quality of our line up. Artists with bigger profile and reach - Billy Bragg, Grace Petrie, Attila the Stockbroker Sid Griffin, Phil & Paul from The Men they couldn't Hang - get so many requests to support causes and so we are delighted they gave their time to us, it's undoubtedly one of the reasons we raised so much money.  
But WE SHALL OVERCOME has never been about big reach and headlines - as at its heart it is a local grassroots movement. What made the day so special was the overall quality of ALL the performers, curated by Joe Solo. I am very proud to be part of this kind of artistic community and proud to be part of the We Shall Overcome family.