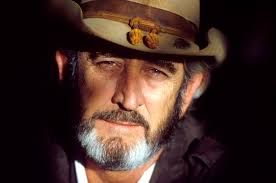 Inspired by Joe Pernice's series Barely Manilow these are cover versions of songs by country music's gentle giant Don Williams. 
Don of the day #1 : Come early morning 
Listening to Don can make me feel calm and centred or give me a rush of joy. This ones in the joy category.
Don of the day #2 : Lord I hope this day is good   

This Don Williams classic from 1981 is part song and part prayer. Although I'm not a religious person I find singing this song to be hugely comforting. There's something about the melody I can just wrap myself up in like a nice blanket.
Don of the day #3 : Especially you 
This is the title track of Don's 1981 album Especially for you
Don of the day #4 : Till the rivers all run dry

A Don classic from 1976. Covered by Pete Townsend and Ronnie Lane on their brilliant 1977 album Rough Mix. 


Don of the day #5 : Good Ole Boys like me

My favourite of Don's songs. Released in 1980. Written by the superb songwriter Bob McDill. A song about being deeply rooted in a place. For better or worse.
Spotify playlist