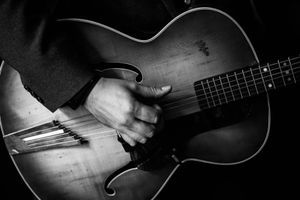 Looking back on 2019 I've done fewer gigs than I normally play, but there have been some real highlights. I've picked ten things of note that happened this year. Nine were really great, the tenth is not so good, but overall it was a productive and interesting year for me as a self-employed musician/artist.
1. I was on the telly
My appearance on BBC1 antiques show Flog it was aired in the summer. I played my song Bendigo and talked about my great grandad John Henry Taylor who was a bare knuckle fighter.
2. I was on the radio
This BBC Radio 4 documentary 'Encounters with Victoria' by Lucy Worsley made use of my song "Half a dozen demands". The song is about Chartism and the show told the story of the Newport Rising in 1839.
3. I was on a podcast
This was my first time appearing on a podcast. I was guest on 'In the bookshop' and had to pick a selection of my favourite books. It was hard to only include a single Elvis book from my huge collection but I managed it. You can listen here –
4. I was in a museum exhibit
The People's History museum 'Disrupt – Peterloo and Protest' featured some artifacts from the recording of my 'Greedy Magicians' album of protest songs.
5. I played a proper big festival stage
Thanks to my friends at Studio 3 Arts I was able to secure a slot at the Barking Folk festival. I opened the Saturday 'Rebels in the ruins' section. The bill included Will Varley, Beans on Toast and Dreadzone.
6. I did a show about democracy
I updated my 'Battle for the Ballot' show and with Tracey Browne we did some shows to mark the 200th anniversary of the Peterloo massacre. We talked a lot about how voting is only part of what makes a democracy and how the rise of big data is making it harder to have free and fair elections. The highlight was playing inside the historic Westgate Hotel in Newport – an important location in the story of Chartism.
7. I did a panel at a Conference
I spoke at Focus 2019, a big music industry event. I was on a panel for Help Musicians and I talked about the health challenges that face musicians. I can speak from not only meeting lots of affected musicians in my role for Help Musicians but also from personal experience.
8. I started a band
This year I've been rehearsing and working with two friends – Huw and Emma – to create a trio for a possible album and touring show. At the moment we're using a working title of the Landscape sessions.
9. I went on a songwriting weekend
Thanks to a grant from Help Musicians UK Transmission Fund I was able to spend a weekend in Glasgow learning from other songwriters. It was a really interesting and productive weekend.
10. I was diagnosed with SCDS
I found out that bone in my right ear has worn thin and has a hole in it. It explains why I can hear my eyeballs move and my voice is distorted and loud, especially when I sing. For a such a tiny hole it's causing me some very big problems. I wrote a blog about it