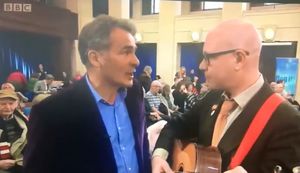 About two years ago I filmed an episode of BBC TV's 'Flog it!', to be honest I was beginning to think it would never see the light of day, but it finally aired on BBC One recently.
I was asked to sing a song about the Nottingham bareknuckle boxer Bendigo. It's a song that took me years to develop. It was a real labour of love setting Arthur Conan Doyle's poem to music. It took quite a bit of editing and some additions of my own to get it right.
On the 'Flog it' show I only sing a very short segment of it but the full version will appear on my next album 'Savage Pilgrims'.